Walk In Tub Comparisons
Do you know how to compare walk in tubs correctly?
Just because one walk in tub might be cheaper, or more expensive, than another doesn't mean you're getting a better buy. It really comes down to how the tub and therapy systems are constructed. We've put together this handy guide to show you what to look for and what to avoid when buying a tub so you are happy with your purchase and safely enjoy your new safety walk-in tub for many years to come. This is a great tool when comparing walk-in tubs commonly found in the marketplace, such as Premiere Care, Safe Step, Ellas Bubbles, and Independent Home. See why Hydro Dimensions builds the best walk-in tub, and why we have been around for more that 20 years.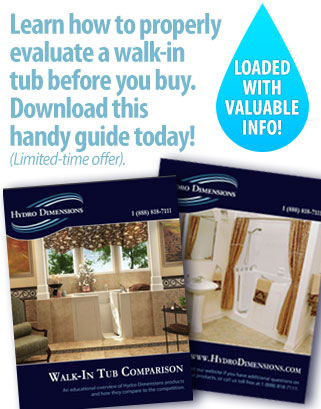 Download this highly informational brochure on what to look for when buying a walk-in tub now!