Health Benefits of Hydrotherapy
Hydrotherapy: A Healthy Home Treatment Regimen
For many thousands of years, even before the great pyramids of Egypt were built, human kind has understood the healing properties of water. In fact, many ancient cultures worshipped water gods or goddesses in hopes that they would bestow health and vitality to their followers.
Through science and technology, we now know why Hydrotherapy can aid in the treatment of common ailments as we understand the properties of water's healing abilities.
In this special report, we explore the different types of Hydrotherapy and how they work, as well as how different types of hydrotherapy practices treat different types of ailments and conditions. Learn how Hydrotherapy can relieve arthritis pain and reduce swelling; relieve back pain and sore muscles, aid in the management of diabetes; relieve headaches and migraines; and many other health benefits.
This is a FREE Report – No Purchase Necessary!
Hydro Dimensions values your health and safety, so we felt obligated to release this valuable Hydrotherapy information to you at no cost. We hope you enjoy this informative article!
Questions?
Call us toll free: 888-818-7111 or email us.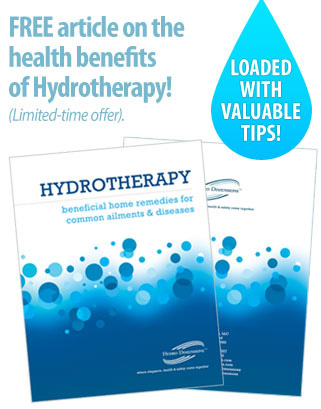 Download our special report on Hydrotherapy and learn how it can help relieve the symptoms of many common ailments and improve your overall health.